01
Discovery & Analysis
Research, in-depth discussions, and scope documentation take place during this phase of the project to ensure your new site serves all stakeholders and will satisfy all known requirements.
02
Content Strategy
We complete a thorough review of the current website statistics, content, and functionality to assess strengths and weaknesses. New sitemap creation and content recommendations are provided.
03
Design
Working with your existing brand to build a new online presence, bringing together strategic direction, and user interface design into layout.
04
Development
The start of front-end and back-end development brings your new layout to life.
05
Accessibility
Special care is taken to ensure a positive and equal experience for users of all abilities.
06
Testing
Everything has come together and it's time to ensure that your new site functions under all circumstances. Device, browser, accessibility, and speed testing come into play during this stage to ensure an equal experience for all your site visitors.
07
Launch
A time of celebration (and link-sharing)! Your new project is live and ready for action.
08
Training & Support
Training and ongoing support services are available from project launch until, forever! Our dedicated local team is ready to help at every stage post-launch should you need us.
09
Expansion
We always build with future innovation in mind, our team is available to chat about the next phases/new ideas and solutions to build off of your existing project.
We're building relationships, not only solutions.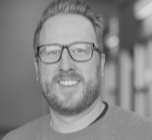 Derek Stoppler
Business Development/
Project Manager